The Bowl Session 1
Rules – Event
<![if !vml]>

<![endif]>
Home
<![if !vml]>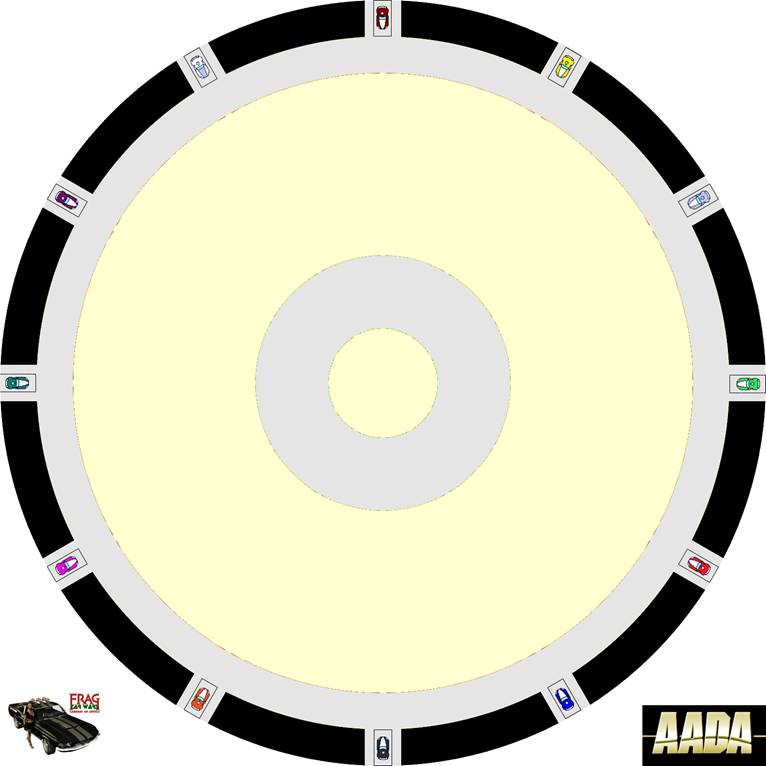 <![endif]>
Arena
This arena of demolition derby is an semi-off road one. Yellow area is covered with sand.
Effect on Sand
Starting a maneuver on it : + D1 (for the whole second, not per phase)
-3 for crash roll and always crash roll on table 2 before table 1
Aim at -1
Vehicles enter arena at 30mph. No acceleration or deceleration in the first second.
Vehicule
Today, duellists will drive some Joseph Special "T"
<![if !vml]>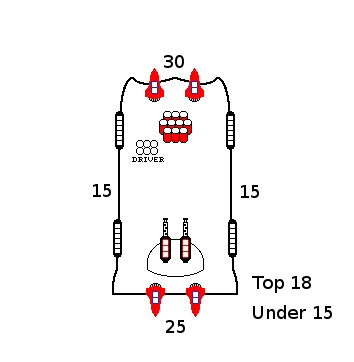 <![endif]>

OR Joseph Special T, designed by compendium 2.5
<Vehicle Description>
Mid-Sized, Standard Chassis, Large Power Plant, Off-road Suspension, Heavy-Duty Off-road Tires,
Driver (Body Armor), Two-space Turret, front: 2 Heavy Rockets, back: 2 Heavy Rockets, in turret: 2 Machine Gun, Weapon Link (MGs),
Armor F30, R15, L15, B25, T18, U15, Accel. 5, Top Speed 105, HC 2 (3 on sand), 4 774 lbs (DM 1), $ 13 568
OR Joseph Special T, [PHANTOM]
<Vehicle Description>
Mid-Sized, Light Chassis, Medium Power Plant, Off-road Suspension, Heavy-Duty Off-road Tires,
Fake Driver, Fake Turret, 6 Fake Weapon (4 HRs, 2 MGs),
Armor F10, R5, L5, B10, T5, U5, Accel. 5,  Top Speed 110, HC 2 (3 on sand), 2995 lbs (DM 2/3), $ 6500
OR Joseph Special T, designed by compendium 2.5 – VERSION FRANCAISE
<Vehicle Description>
Coupé, chassis standard, gros générateur, suspension cross, pneus renforcés cross,
Pilote (armure corporelle), tourelle 2 espace, avant: 2 roquettes lourdes, arrière: 2 roquettes lourdes, tourelle: 2 mitrailleuses couplées,
Armure : Avant 30, Arrière 15, Gauche 15, Droite 25, Toit 18, Fond 15, Accelération 5, Vitesse de pointe 105mph, Tenue de Route (HC) 2 (3 sur sable), 4 774 lbs (DM 1), $ 13 568